"Kendra" by Jorja Brewer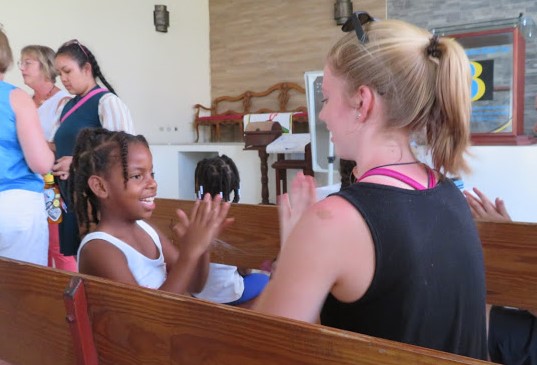 One of the most impactful experiences of the trip in my life was the one little girl that I connected with, even though there was a language barrier, and her name is Kendra. This little girl is 8 years old, has a little sister and her living conditions weren't the best, and small things meant a lot to her, and I remember the first day we did camp, she came up to me trying to teach me a special hand game that they like to play, and would laugh anytime that I got it wrong; it was then that we connected. Later in the morning, she would only sit by me and if she left my side, she always came running back with a hug, and to attempt to show her how much she already meant to me after only a few hours, I gave her a bracelet that I already had and she wore it every day from then on.
The next day, she came to the next camp, and our bond was even stronger, so much so that if anyone tried to hug me she would chase them away, giving me the message that she was trying to say that I was her good thing, and no one was going to take me away from her. That morning for craft we taught the children how to make a special kind of bracelet, and she made one for me and I made a special one for her, and along with the other bracelet, she didn't take it off either, and any time after that when I saw her, she always came running into my arms with a great big hug and a huge smile. My little girl by the end of the week taught me a few of her favorite activities and she taught me some Spanish too, and by the end of the week, I taught her how to say "I love you" in English.
Kendra taught me two main things on the trip, the first being that even when you don't have much, you can still have so much more than anyone else by appreciating what you do have and not letting your conditions control how you see the world, and the second thing is that even if you may not speak the same language as someone, you're still able to make connections and help them in more ways than you can imagine.  I will never forget this trip and the connections that I made, but I will also never forget my little girl, she's always in my mind and I can only pray that I'll get to see her again one day.